Planning on being active outdoors? Then opt for the highest protection!
Whenever we can, we like to be outside. Go for a walk, exercise and of course enjoy the sunshine and warmth. But the sun can also be dangerous. Because what we cannot see with the naked eye is UV (Ultraviolet) radiation. Radiation come in two types: UVA can damage and age your skin. Furthermore, too much UVA can even cause skin cancer. UVB ensures that our bodies produce much-needed vitamin D. But it can also burn your skin.
Care Plus® has the right products to protect your skin when you are enjoying your outdoor activities. And to take care of your skin after an active day in the sun.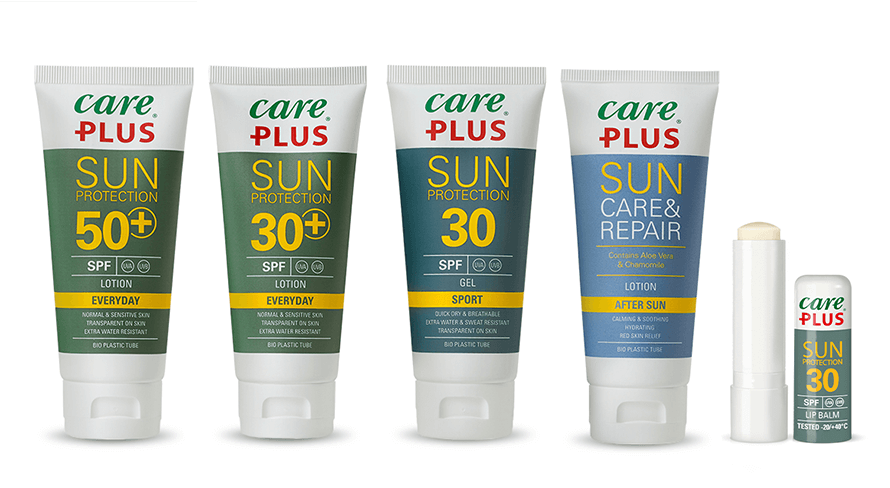 Protect yourself during every Season
Sunscreen is of course extra important during the Summer period. But you can also get sunburn in the Winter and on Winter Holidays. This has to do with the power of the sun and reflection.
Sun power
The shorter the distance UV rays have to travel, the stronger they are. When the sun is directly overhead, that distance is shortest. In Summer, this is between 12:00 and 15:00. At higher altitude in the mountains, the sun is also more powerful because the UV rays reach you sooner.
Clouds and reflection
Clouds block the radiation. But thin clouds, as we see in 'hazy weather', do not. Good to know: UV radiation becomes 10-20% stronger when it reflects off sand or water. With fresh snow or fresh ice, it is even 80-90%! So also be sure to protect yourself in the Winter.
Skin types and protection factor
Every sunscreen has a factor: the Sun Protection Factor (SPF). There is a simple rule for choosing your factor; the lighter your skin and the more direct sunlight, the higher the factor. So if you have tanned skin, you can use a lower factor. For children, it is recommended to use at minimum SPF30. Choose SPF50+ if you don't want to take any risks. Keep babies out of the sun entirely. Their skin is still too vulnerable.
Protection for an active outdoor life
Care Plus® helps you with optimal sun protection. With products that suit your activities.
Tips for protection:
Apply your sunscreen lotion or gel 30 minutes before your anticipated sun exposure.
As long as you are exposed to the sun; reapply every 2 hours.
The Sun is strongest between 12:00 and 15:00. We advise you to find shade.
Apply generously. Applying too thinly reduces the protection factor considerably.
Care Plus® Sun Protection Everyday Lotion
Both for you and for children, there is the Care Plus® Sun Protection Everyday Lotion. Ideal for sunbathing in your garden, on your balcony and taking with you to the beach or on vacation. It is quick and easy to apply. Convenient when you're quickly going out. Care Plus® Sun Protection lotion is suitable for normal and sensitive skin and available in SPF 30+ and SPF 50+. Care Plus® does a lot of research into the best protection for your skin. The result is a unique formula that also offers protection against jellyfish stings.
Care Plus® Sun Protection Sport Gel SPF30
For all sports activities in the Sun, choose the protection of Care Plus® Sun Protection Sport Gel SPF30. This formula is extra resistant to sweat and water. This gel absorbs quickly and does not contain any oil. Even if you apply it on a dusty skin, it won't mix with dust. So you will no longer experience that 'muddy' feeling on your skin. Care Plus® SPF 30 Sports Gel lets your skin breathe and does not leave a white cast, even when applied to sweaty skin.
Care Plus® Care & Repair After Sun
Take good care of your skin after exposure to the Sun and especially if the skin is burned. Care Plus® Care & Repair After Sun contains natural ingredients that nourish, soften and help restore your skin.
Care Plus® Sun SPF 30 Lip Balm
The SPF 30 Lip Balm cares for and protects your vulnerable lips extremely well. From -20 to +40 degrees Celsius.