Mosquito nets for a good and safe night's sleep
Mosquito nets keep mosquitoes, insects and other pests at a distance, so you can enjoy a good night's sleep. A mosquito net must meet several conditions in order to provide proper protection from (malaria) mosquitoes; a mosquito net only offers additional protection if the net is closed all the way around, if it is made of durable polyester and if the mesh is not larger than 1.75 mm. An impregnated net provides extra safety.
Good quality mosquito nets
The mosquito net must certainly not be too small, otherwise, it would be too stuffy and it would not provide optimal protection. All Care Plus® mosquito nets are developed in our workshop and are manufactured under strict quality standards. The high-quality multifibre is uniquely suitable for durable impregnation and guarantees the mosquito net's long lifespan.
Which mosquito net will you choose?
​When it concerns you and your family's health, you don't take any half measures. Do you want to buy the best and the safest mosquito net? All Care Plus® mosquito nets, head nets and Bug Sheets have a mesh size according to WHO guidelines.
Do you choose an impregnated or non-impregnated mosquito net?
For use at home, within Europe or in areas without malaria risk, a non-impregnated mosquito net is sufficient. For areas with malaria, Care Plus® recommends using an impregnated mosquito net. Caution, the risk of malaria may change from season to season. Ventilate the room and hang your mosquito net before sundown. In addition, apply an anti-insect product to your skin at night and during the day.
An impregnated mosquito net has been treated with durable Durallin® impregnation technology. This impregnation is effective up to 3 years when used daily and prevents mosquitoes from landing on it and stinging through it. This mosquito net is suitable for 2 people.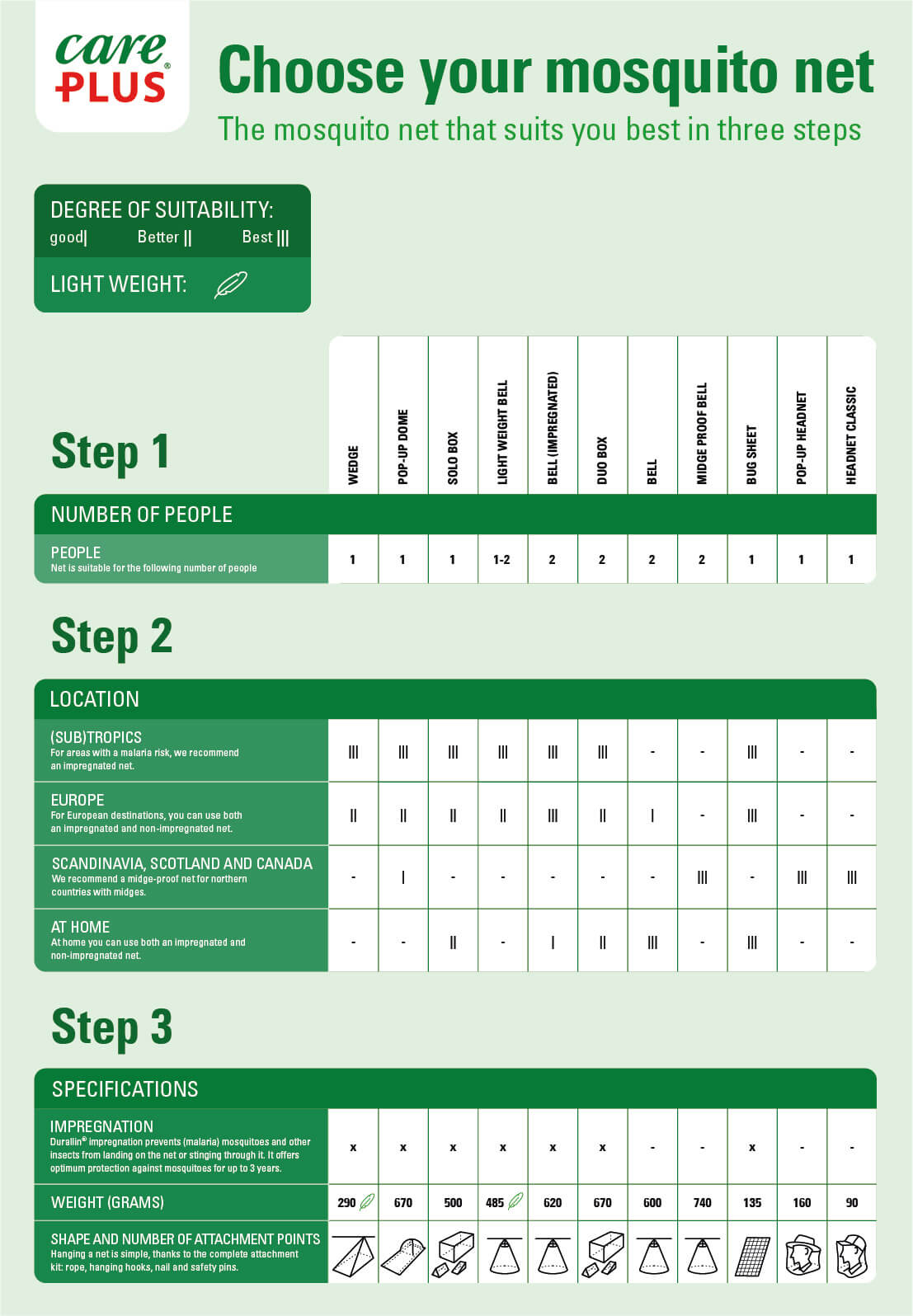 How do I hang a mosquito net?​
Fortunately, hanging your mosquito net is easy. Care Plus® impregnated mosquito nets include a complete attachment kit, consisting of hanging hooks, a nail, safety pins and a rope. Your mosquito net will be optimally effective when you comply with the following guidelines. Ventilate the room well before hanging the net; at least before sundown, when most (malaria) mosquitoes are active. Create an attachment point above your bed or tie a rope horizontally above the bed and attach the mosquito net to it.
How do you optimally protect yourself from insect bites and stings?
Do you want to protect yourself and your family optimally from dangerous diseases when travelling? In addition to using an impregnated mosquito net, it is important to cover the skin as much as possible with clothing, especially when outdoors. Apply an anti-insect product to your exposed skin, during the day and at night. Most mosquitoes sting at night, however, mosquitoes that transmit dengue are particularly active during the day.