Effective protection during exercise
Exercising outdoors requires something extra from a product that has to protect you from the sun. You want to be sure that you are well protected against UVA and UVB radiation and that your skin can continue to breathe.
Care Plus® Sport Gel SPF30 is the answer to all your needs as an athlete. It is a unique gel that gives a cooling and fresh sensation and is suitable for normal and sensitive skin. Sport Gel SPF30 absorbs quickly and is not sticky. This way you can keep moving and be optimally protected.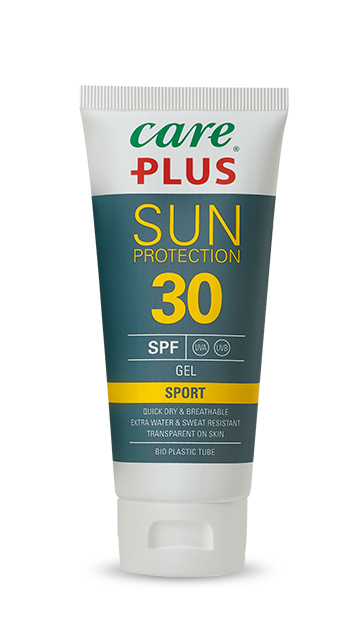 Effective protection for active sun lovers
Protects against UVA and UVB radiation.
For normal and sensitive skin.
Extra water- and sweat-resistant. Tested with a minimum of 80 minutes of swimming or sweating.
Contains vitamins B & E.
Does not mix with dust.
Allows the skin to breathe.
Does not leave a white cast.
Cooling sensation.

Specifications
Tube – 100 ml
Paraben-free
Vegan
Tube is made of bioplastic (recycled)
Developed for exceptional performance
Care Plus® Sun Protection Sport Gel SPF30 effectively protects against sunburn. And that without leaving streaks, as the gel does not mix with the dust on your skin.