This year, Care Plus® is celebrating its 30th anniversary. A good time to reflect on the challenges, lessons learnt and successes of our brand and our umbrella company Travel Health Group. The most important thing is of course the impact we have made in the past 30 years, but we are also looking ahead to the year 2030. That's the year we want the world to be malaria-free!

The beginning of Care Plus®
In 1989, Pieter Aalbersberg (Arnoud's father) started the company Primmed B.V. This company was a distributor of vaccines from a Swiss manufacturer at the time. The majority of these vaccines were for combating infectious diseases such as cholera, typhoid fever and hepatitis A. These vaccines were supplied to vaccination centres, Municipal Health Centres, pharmacies and general practitioners and were often administered to travellers who were travelling to distant destinations where the hygienic conditions were different from those at home.
At the beginning, the company's mission was primarily to prevent travellers from falling ill during or as a result of their trip. But if you look at all the health risks a traveller faces, even today, and which vaccines can reduce infectious diseases, according to the WHO, you only get to 2%. For the remaining 98% precepts such as the credo 'cook it, peel it, boil it or forget it' are adopted. In addition, preventive products could also contribute to health protection. With this knowledge, the Care Plus® brand was established in 1992. The idea behind Care Plus® was, and still is, to develop freely marketable products that have a preventive quality.
Safe Travels, Great Stories
When the Care Plus® brand was first established, the mission was primarily to prevent travellers from falling ill, or even worse contract infectious diseases, during or after a trip. Over the years, this mission has been transformed into not only safe travel, but also coming home with great stories. Nobody looks back fondly on a trip where 6 out of 10 days were spent being sick on the toilet. To this day, our mission is 'Safe Travels, Great Stories'.
Today, we protect not only travellers to faraway destinations, but also active outdoor people at home. In the last 15 years, we have developed our prevention of insect stings and bites, because mosquitoes and ticks are a potential health risk not only in faraway countries. These little creatures can transmit dangerous infectious diseases all over the world, even close to home.
Care Plus® goes international
In 1999 Arnoud Aalbersberg took over the company Tropenzorg BV from his father Pieter. In that same year, Arnoud completed his Post-Bachelor course in Export Management. The most important conclusion from his graduation was that the Care Plus®concept, providing information and education and offering products, had less than five competitors on a global scale. The time had come to roll out the business to several countries. The first 'real' export country was Germany, but today Care Plus® is available in more than 25 countries, and you can find the products online as well as in outdoor shops, pharmacies, drugstores and supermarkets.
Up to now, exports have mainly focused on Europe because the most important products in the range such as insect repellents, impregnated mosquito nets, socks, water disinfectants, hand gels and first aid materials are covered by European regulations. However, there are also products available outside Europe, such as in Canada, the Netherlands Antilles and Japan.
Innovations over the years
During the last 30 years, Care Plus® has introduced several relevant product innovations on the market. With product categories including Anti-Insect, First Aid, Hygiene, Anti-Lice and Sun Protection and over one hundred different products, you could say that Care Plus® has become the expert in the field of protection. Not only information and education, but the products have also been continuously renewed. We would like to look back on a number of Care Plus® milestones in the field of health and safe travel.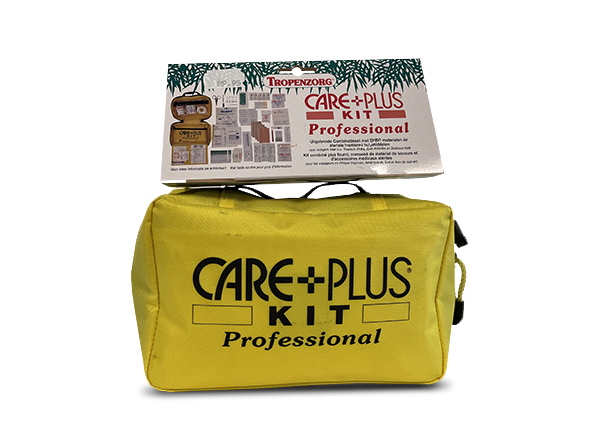 1992 | First launch of the First Aid Kit for long-distance travel
Travelling to countries where medical care is not as good can entail health risks. It was advisable then, and still is now, to bring your own first aid kit with sterile materials such as needles. Care Plus® was the first to bring such a first aid kit onto the market in 1992, with a doctor's certificate to avoid problems at customs.
1994 | introduction of 50% DEET in the Netherlands
DEET is the most effective agent for keeping stinging and biting insects at bay. A percentage of 50% protects the user up to 10 hours against mosquitoes, including the aggressive tiger mosquito. Care Plus® was the first to bring DEET to the Dutch market.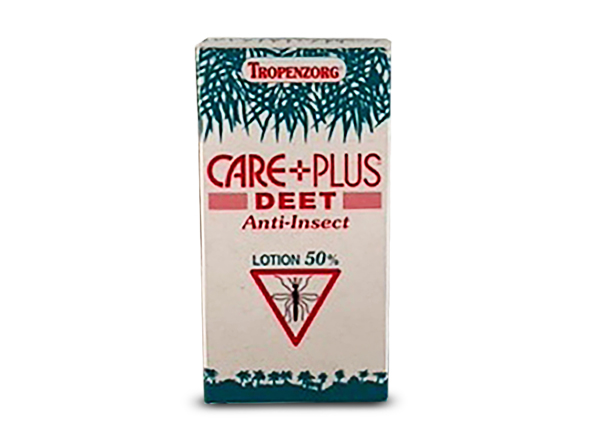 1997 | mosquito and UV-resistant clothing
Care Plus® wanted to protect travellers and outdoor sportsmen from head to toe. The uncovered skin could already be rubbed with an insect repellent, but clothing was not yet resistant to mosquitoes in many cases. At that time, a new development was introduced whereby a UV-B protective value was stated on clothing. Care Plus® was the first to offer travel clothes that could live up to both claims.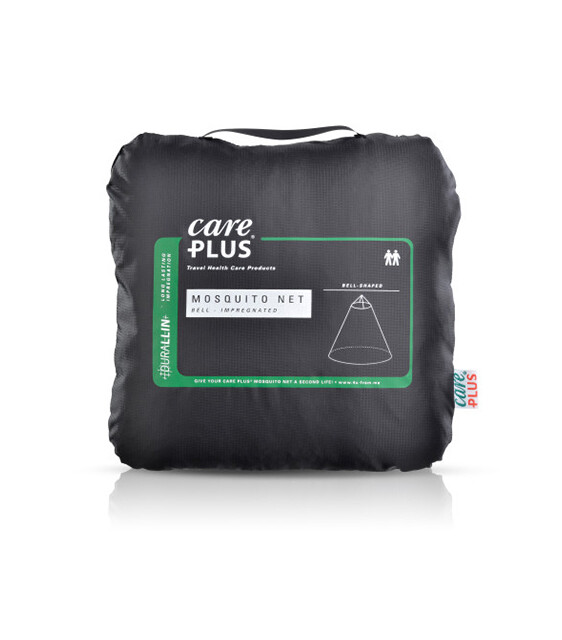 2003 | long lasting impregnated mosquito nets
In this year, Care Plus® was the first to launch the long lasting impregnated mosquito nets. This innovative development meant that impregnated mosquito nets could be claimed to be longer lasting. The active ingredient permethrin (the insecticide used) is released slowly, which means that the nets do not have to be re-impregnated every six months. This is an important development, especially in malaria-prone areas.
2011 | introduction of sunscreen products
A new sun protection category has been added to our outdoor protective products. Wherever you are and whatever the season, sun protection is needed every day to protect the skin from harmful UV-A and UV-B rays of the sun. In 2011, Care Plus® was the first to market with a series of sunscreens that, in addition to a high SPF, also protect against jellyfish stings!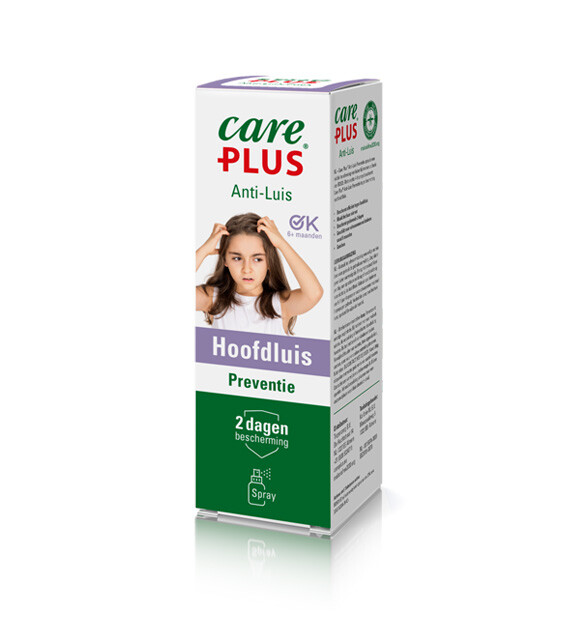 2020 | launch of products in the Anti-Lice category
In 2020, the brand launched another new product line, Care Plus® Anti-Lice. Care Plus® was the first to bring both a preventive and a natural treatment product to the market. The products prevent a lot of inconvenience such as irritation and itching and endless combing and embarrassment at school.
2021 | the launch of organic Anti-Insect products
In this year, the first Care Plus® organic products were launched. In addition to a social objective, Travel Health Group, the umbrella organisation of Care Plus®among others, also strives for sustainable production and packaging of its products. An organic formulation of both content and packaging is a logical development for this and future generations.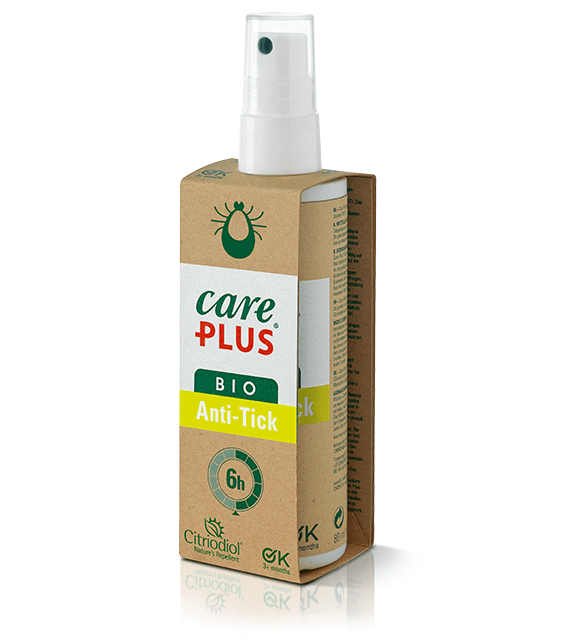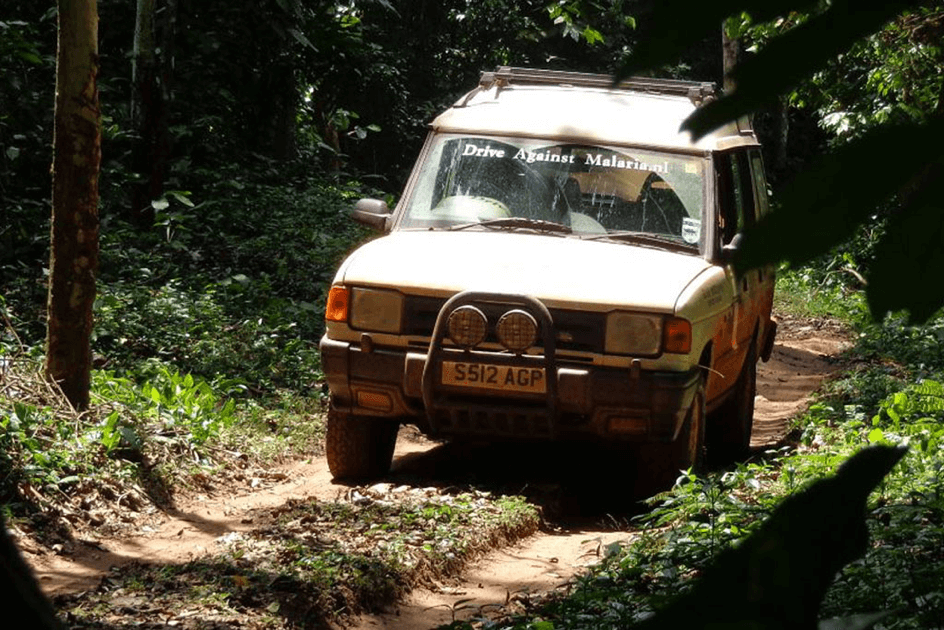 Our greater goal: a malaria-free world by 2030
Care Plus® is not only committed to the health of travellers, but also to people living in malaria risk areas. In 1999, Arnoud Aalbersberg was driving on the motorway in the Netherlands. A billboard with "Drive Against Malaria" caught his attention. The photo showed a Landrover with mosquito nets on the roof. The advertisement for MEMISA, now Cordaid, made the penny drop for Arnoud. This was the true goal for his company.
Arnoud immediately contacted MEMISA and Care Plus® became the main sponsor of this unique Drive Against Malaria project. Drive Against Malaria is an ongoing initiative of David Robertson, a philanthropist dedicated to telling the world about malaria and helping malaria-endemic countries. Together, Arnoud and David came up with the idea of 'a net for a net'. Travellers who bought a Care Plus® mosquito net also donated a net to Drive Against Malaria. This was the beginning of our Buy One, Give One campaign.
In 2000, Arnoud accompanied David to Cameroon in Africa for a fortnight to see for himself how his initiative helped to eradicate malaria. After this trip, Arnoud knew for sure that this would be the bigger goal for Travel Health Group and Care Plus®, to contribute to a malaria free world in 2030! In the 10 years of cooperation with Drive Against Malaria, Care Plus® has donated more than 10,000 mosquito nets to the inhabitants of Cameroon. Since 2009, Travel Health Group has supported numerous initiatives that fight malaria.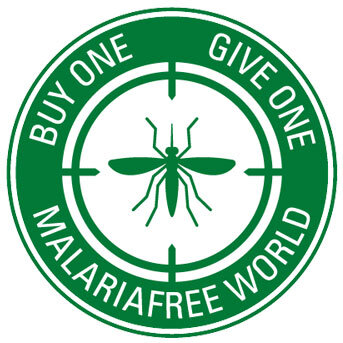 Today, we are investing 1% of our turnover in this great cause: a malaria-free world by 2030. Besides distributing mosquito nets, we also support the production and publication of the weekly newsletter MalariaWorld. This newsletter is produced locally in Kenya and distributed to more than 11,000 malaria professionals in over 140 countries. This means that everyone has access to all the latest malaria publications every week.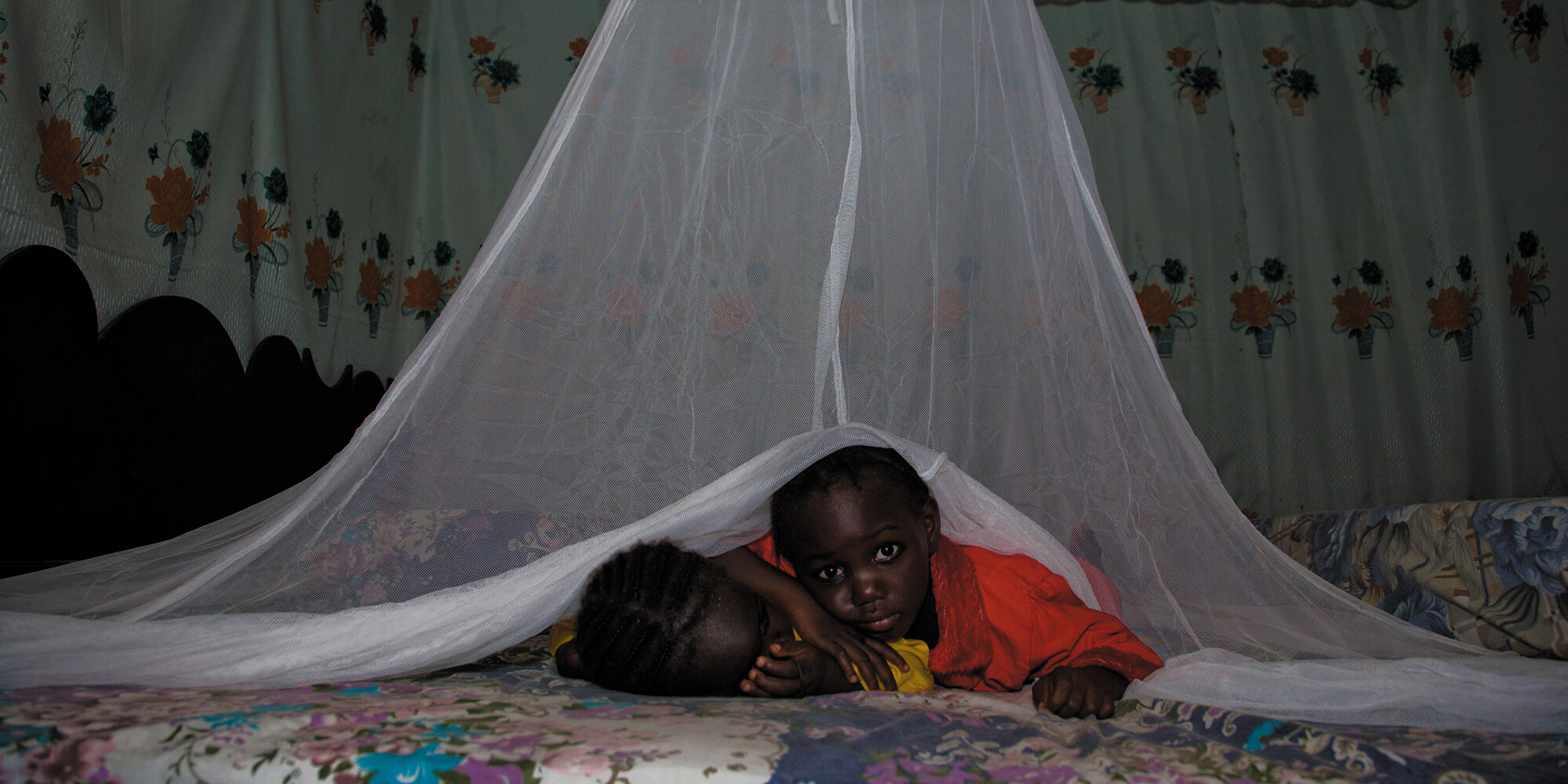 How can you contribute to the fight against malaria?
The year 2022 is a festive year for Care Plus® with our 30th anniversary. We will be celebrating this extensively with fun activities for our partners and customers, including raffling off a travel cheque worth €2030! But we can't sit back and relax and we need to make every effort. Our greater goal, a malaria-free world in 2030, is getting closer and closer!
We still have a lot of work to do to finally eradicate malaria, but it can be done. If all institutions with the same goal, such as the World Health Organisation (WHO), but also the local population and travellers, join forces to implement such a "cocktail" of education, product innovation and rules of life, malaria will have almost no chance. Malaria is and remains an avoidable disease because if you are not bitten, you cannot get malaria.
In the coming years, the fight will focus on the malaria parasite in all its stages of development in both humans and mosquitoes. There are fantastic initiatives by young, talented people who help eradicate malaria with the latest techniques. In 2020, for example, drones were developed that spray the rice fields in malaria-prone areas with biological insecticides. The rice fields are a fantastic breeding ground and thousands of mosquitoes live there. The workers and their families work and live next to the rice fields and are therefore at great risk of infection. Scientists in the United Kingdom are also testing this method of prevention. They are using satellite data to locate breeding sites of the malaria mosquito. Drones are then used to spray the breeding sites with a pesticide. There are also scientists who use 'gene drive' to try to eradicate malaria. Through genetic manipulation, malaria mosquitoes are given a gene that makes them unfit to transmit malaria.
By supporting Care Plus® as a brand, every partner, every shop, every platform and every consumer contributes to a malaria-free world. Together we can beat malaria! Read our Malaria Impact Report here.