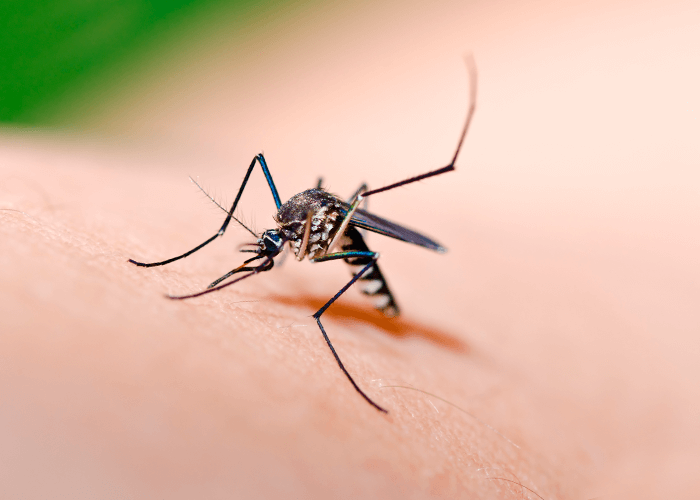 Hur fungerar DEET?
DEET är det starkaste insektsmedel som kan appliceras på huden och har funnits i handeln sedan 1957. Jämfört med andra insektsavvisande medel har DEET varit det mest undersökta i vetenskapliga studier (fältstudier) och har visat sig fungera effektivt. Det är det mest använda medlet i världen för att hålla insekter som myggor och fästingar borta.
Vad är DEET och hur fungerar det?
DEET utvecklades 1944 av Samuel Gertler vid det amerikanska jordbruksdepartementet. Han utvecklade ingrediensen för att användas av den amerikanska armén. DEET är en förkortning för N,N-Diethyl-meta-toluamid, eller något kortare: dietyltoluamid. Den maskerar flyktiga luktämnen på huden. Dessa luktämnen, till exempel från mjölksyrabakterier, kan inte omvandlas till luktneuroner som kan locka till sig myggor. Myggan fortsätter därför sitt sökande på annat håll och du blir inte biten.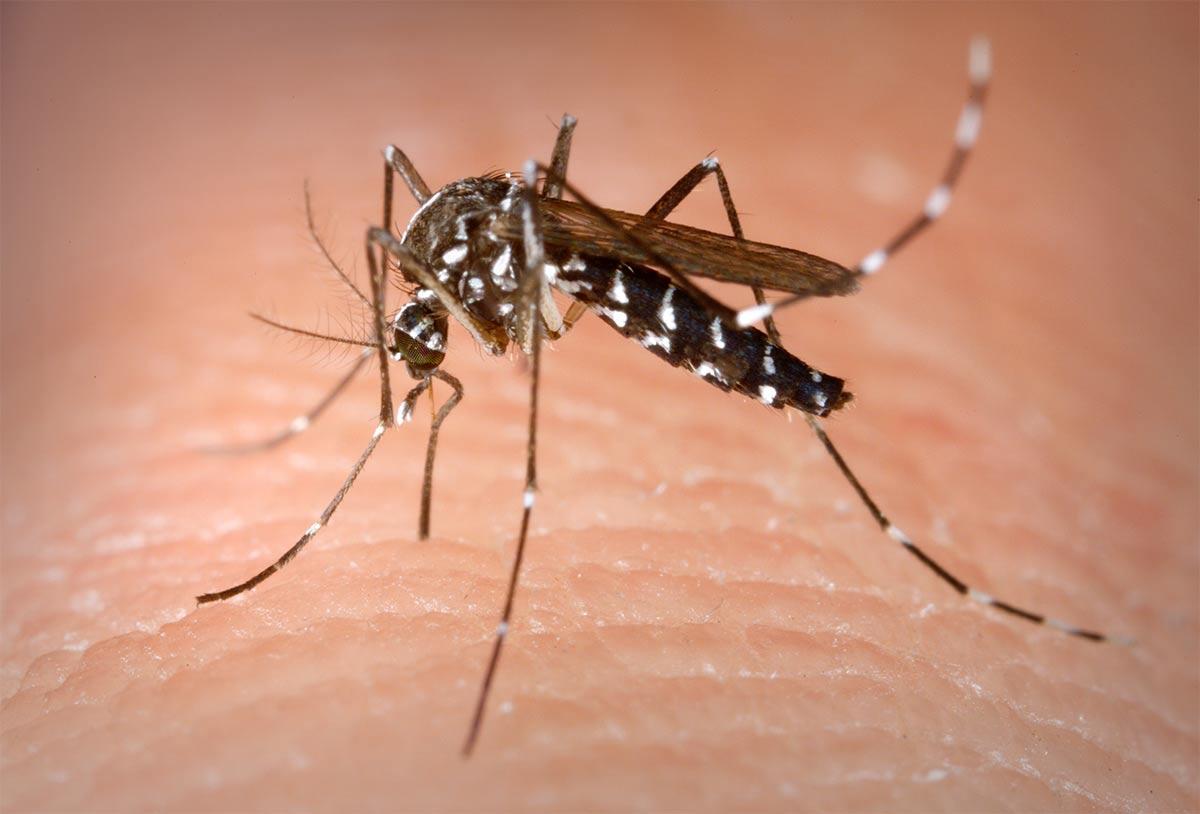 Vad betyder procentandelen DEET?
There are different percentages available of DEET-containing insect repellent products. The percentage does not say anything about how well the product works, but it does say something about the product's duration of action. A higher percentage offers a longer duration of action. In the table below you can find a handy overview of the protection duration against mosquitoes and ticks per percentage.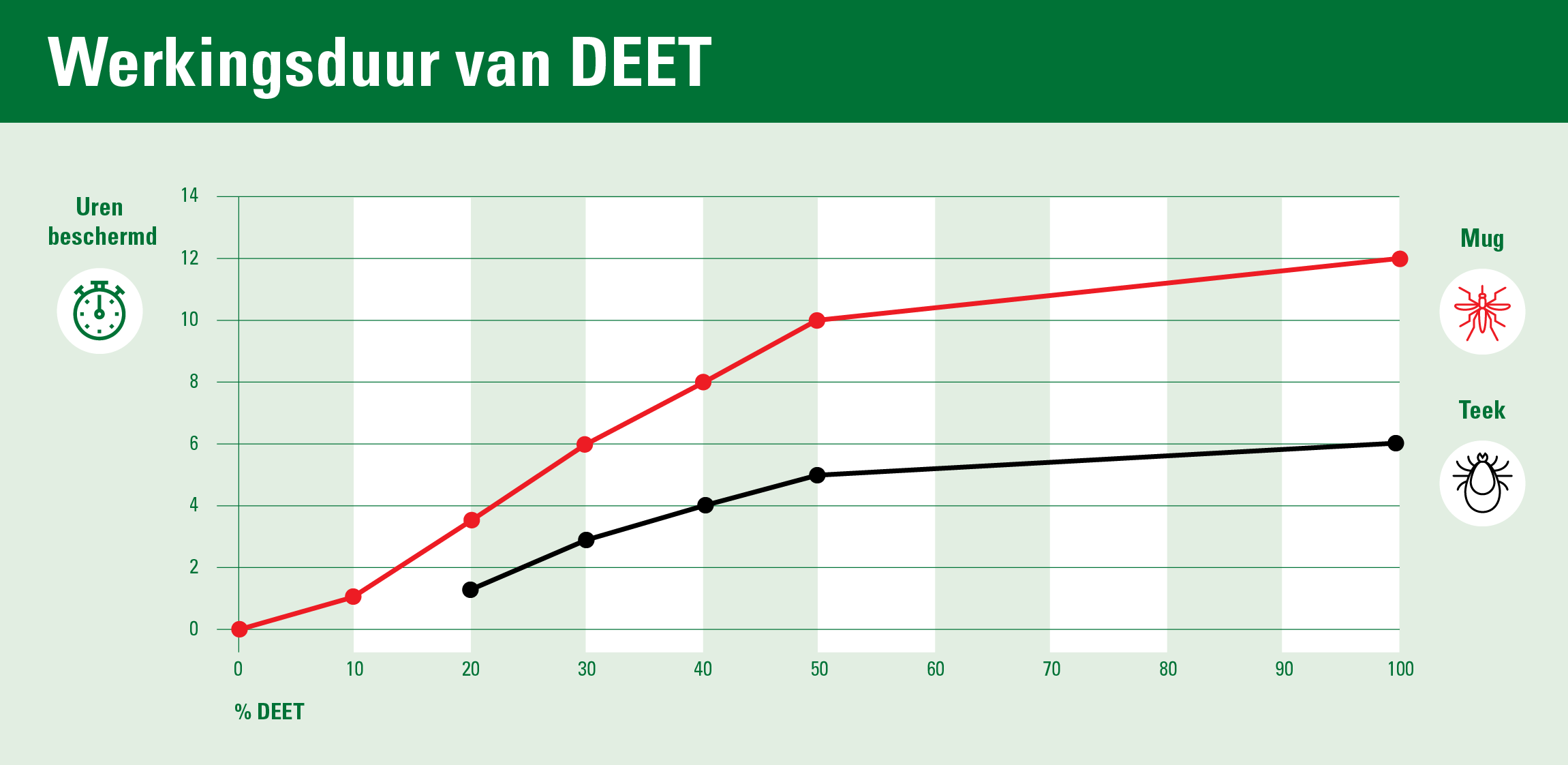 Mellan 50 och 100 % DEET är det nästan ingen skillnad i verkningstid, men säkerheten påverkas negativt. En så hög andel DEET kan orsaka hudirritation. I malariaområden rekommenderas en procentsats på 30-50 % DEET. Om du applicerar produkten före solnedgången ger den tillräckligt skydd tills du sover under det impregnerade myggnätet.
Att beakta vid användning av DEET
När du använder produkter som innehåller DEET måste du ta hänsyn till ett antal saker. Medlet kan lösa upp vissa syntetiska material som rayon, spandex, syntetiska tyger, målade eller lackerade ytor och nagellack. Dessutom kan medlet tränga in i hårda plaster och göra dem mjukare och mer flexibla. Var därför försiktig när det gäller dina kläder och andra föremål när du använder DEET.
Alternativ till DEET
Förutom DEET finns det tre andra aktiva insektsavvisande ämnen. Care Plus® har sedan 1994 ett insektsmedel som baseras på naturliga extrakt av citronekalyptus (Citriodiol®). I ett antal europeiska länder har Care Plus® också Saltidin (Icaridin™) och IR3535™ i sitt sortiment. Tillgängligheten av dessa produkter beror på lokala bestämmelser.
3 fakta om DEET
Mer än 200 000 000 amerikaner använder DEET-produkter mot mygg- och fästingbett varje år.
Care Plus® har genomfört sina egna effektstudier med tre myggarter, däribland husmyggan (Culex), malariamyggan (Anopheles) och tigermyggan (Aedes).
DEET är inte giftigt för människor, även om det då och då dyker upp historier i media.
3 vanliga frågor om DEET
1. DEET säkert för barn?
Det finns åldersrekommendationer för användning av DEET. Åldern beror på procentandelen DEET. Till exempel är DEET 30 % lämplig för barn över 13 år och DEET 50 % för barn över 18 år.

2. Vad händer om jag reser till ett malariaområde med barn under 13 år?
Myndigheternas råd om användning av högre procentandelar DEET i (sub)tropiska områden kan skilja sig åt. De tittar till exempel på om risken för infektion med en sjukdom är större än risken för att barnet ska drabbas av hudirritation genom användning av DEET. Dessutom är yngre barn mer benägna att få munnen eller ögonen i kontakt med andra kroppsdelar. Något som måste undvikas med DEET.

3. Varför finns det ingen DEET med solskyddsmedel?
I områden där tigermyggan är aktiv skulle det vara bra om DEET och solkräm kombinerades. Tigermyggor föredrar att bita under dagen. Båda produkterna påverkar dock varandra negativt. Så snart du använder produkterna tillsammans minskar både solkrämens SPF och DEET-skyddet. Tips: Applicera solskyddet en halvtimme innan du går ut i solen. Applicera sedan DEET-produkten i ett tunt lager på oskyddad hud 10 minuter innan du går ut.