Medical Certificate
You need a medical certificate when you are using medicines that contain substances that fall under the Opium Act, like strong painkillers, ADHD medication and sedatives. If you want to take such medicines abroad, you need an official certificate from your doctor stating that you get this medication on prescription. It also contains important information regarding treatments, allergies, your blood type and emergency contact details. So in the event of an emergency, or in the event of serious complaints, you can be helped quickly in pharmacies or hospitals in other countries.
Certificates
There are two different certificates: a Schengen certificate for travelling to a Schengen country and an English certificate for travelling outside Schengen countries. The processing time of these certificates is around four weeks, so make sure you apply for these papers on time should you need them.
Schengen countries
You need a Schengen certificate when you are travelling to the following countries and are taking medicines that fall under the Opium Act. Belgium, Denmark, Germany, Estonia, Finland, France, Greece, Hungary, Italy, Latvia, Lithuania, Luxembourg, Malta, Norway, Austria, Poland, Portugal, Slovenia, Slovakia, Spain, Chech Republic, Iceland, Sweden and Switzerland.
The form you need for this can be found online. Fill in all the details and have your general practitioner sign the form. Send it to the CAK digitally or by post. With one Schengen certificate, you can bring one medicine and visit a maximum of four countries. This certificate is valid for 30 days. If you're going on a longer trip, you need to apply for several certificates.
Other countries
Are you travelling to a country that does not belong to the Schengen area? Then you need a medical certificate from your doctor. This should be in English and in letter form. This declaration is valid for one year if your medication and dose remain the same. If this changes, you will need a new certificate.
In some cases your certificate needs to be legalized by the embassy and the Ministry of Foreign Affairs, depending on the country you are travelling to. For certain countries, additional documents are required or the procedure is different. Find out in advance which steps you need to take for the country you are going to visit.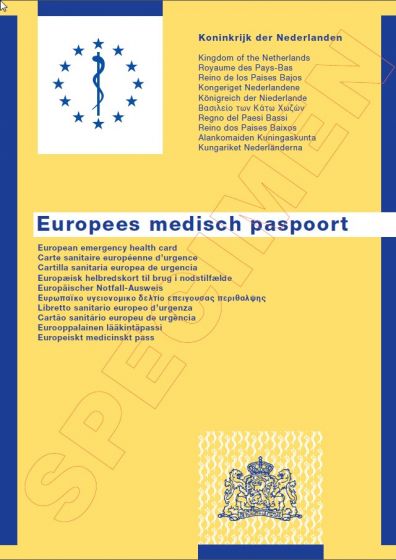 Medicines covered by the Opium Act
To find out whether you need a certificate, it is handy to know if your medicine falls under the Dutch Opium Act. Always ask your general practitioner or pharmacy. Please see the list below with the most common substances that fall under the Opium Act:
Methylfenidate (Ritalin, Concerta, Medikinet
Morphine (Kapanol, Oramorph)
Oxycodon (Oxycontin, Oxynorm)
Methadon (Symoron, Pindadone)
Temazepam (Normisom)
Oxazepam (Seresta)
Other medicines
You can take medicines that do not fall under the Opium Act without a certificate. Leave them in their original packaging with the pharmacy label. That way, it is clear that it is a medicine and not a drug.
It is a good idea to ask your doctor or pharmacy for a medication passport. Should you lose your medication, a doctor will be able to prescribe a correct replacement. This is not an official travel document. For travelling with medicines that fall under the Opium Act you need an official certificate.
Always keep your medication in your hand luggage when travelling by plane. That way, you will have them with you, even if your suitcase gets lost.