Le 25 avril, Journée Mondiale de la paludisme
25 April is World Malaria Day. At Tropicare we believe it is important to give you peace of mind while travelling with our Care Plus® products. Our social responsibility goes one step further, and our mission is a malaria-free world in 2030. This ambitious vision fits our organisation perfectly. We have been committed to the concept of travel and health since 1992.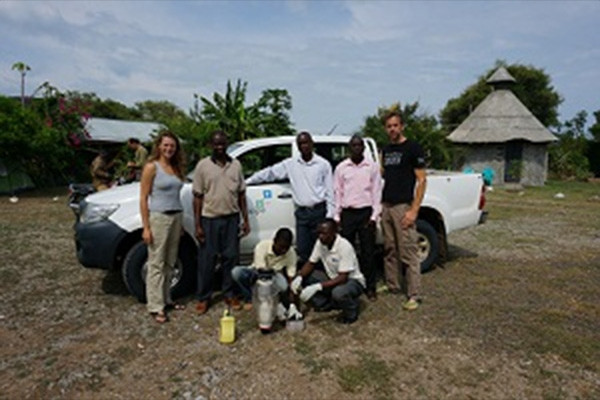 A proven track-record and a continuous stream of product innovations create a situation where customers (in 25 countries), suppliers and media are helping us reach our goal. With specific short, middle and long-term targets, we are working in a straight line towards our goal.
Sharing knowledge and product development are our priorities in achieving a malaria-free world by 2030. We are continually investing in great solutions to repel, prevent and lure mosquitoes.
Malaria facts
Severe infectious disease, caused by the stink of an infected mosquito.
The most dangerous form of Malaria Tropica can result in death within several weeks without treatment.
Every 60 seconds a child dies of malaria.
1,000,000 malaria deaths annually.
Found in (sub) tropical locations. Native mosquitoes are now also found in Europe due to tourism, transport and world trade.
In a few areas, the parasite has become immune to malaria remedies/medicines.
Found in 109 countries.
No vaccin is available.
Repelling mosquitoes
Het afweren van muggen is veelal een kwestie van logisch verstand. Met een aantal eenvoudige tips ben je al goed op weg. Grijp niet meteen naar de insectenspray, maar kijk eerst eens kritisch naar je leefomgeving. Volgelopen bloembakken en verstopte dakgoten zijn de ideale leefomgeving voor muggen. Omkeren en ontstoppen luidt ons advies: gratis, simpel en uiterst doeltreffend. De malariamug bijt vooral na zonsondergang. Door horren voor de ramen en deuren te plaatsen of deze na zonsondergang te sluiten zorg je voor een mugvrije (slaap)kamer. Op reis is een hor zo geïmproviseerd met onze Bug Sheet. Ook het gebruik van een goed werkende airconditioning helpt muggen af te weren. Daarnaast adviseren wij om je lichaam zo veel mogelijk met kleding te bedekken: lange broek, lange mouwen, sokken en dichte schoenen. Onze kledinglijn is van nature zowel zon- als mugwerend, dus zonder impregnatie van textiel. Wel zo gezond voor de drager, wiens huid in direct contact staat met de stof, en voor het milieu. Met deze innovatie waren we in 1997 de eerste op de markt.
Muggen bestrijden
Het slapen onder een geïmpregneerde klamboe staat garant voor een veilige en ontspannen nachtrust. Onze eerste netten kwamen in 1997 op de markt. Ondanks de toegepaste minimale impregnatiedosis, zijn de netten uiterst werkzaam tegen (malaria)muggen, luizen, bedwantsen en vlooien. De behoefte van reizigers verandert en de techniek staat niet stil. Daarom brengen wij dit jaar een assortiment lichtgewicht muskietennetten met langdurige impregnatie op de markt, conform de geldende regelgeving voor biociden binnen de Europese Unie en daarbuiten, én conform de richtlijn van de Wereldgezondheidsorganisatie (WHO). De netten zijn door de vakjury van ANWB bekroond met een Op Pad Award. Dankzij de materiaal besparende 4 hoekige-mazen is ons lichtgewicht assortiment tot wel 50% lichter dan bestaande netten.
Pas daarna volgt het gebruik van een insectwerend middel met DEET op de onbedekte huid. Onze Care Plus Anti-Insect DEET 50%, in het assortiment sinds 1994, biedt tot 10 uur bescherming tegen (malaria)muggen. Als alternatief bieden wij Anti-Insect Natural, zonder Deet en op basis van natuurlijke lemon-eucalyptus extracten. Natural, met 30% Citriodiol®, biedt tot 6 uur bescherming.
Fighting mosquitoes
Sleeping under an impregnated mosquito net guarantees a safe and good night's sleep. Our first mosquito nets were launched in 1997. Despite the minimal amount of impregnation, the nets are very effective for the protection against (malaria) mosquitoes, lice, bed mites and fleas. The requirements of travellers change all the time and technology is keeping up. We will launch a range of lightweight mosquito nets with durable impregnation this year, in accordance with applicable regulations concerning biocides within the European Union and beyond, and in accordance with WHO guidelines. The nets have been awarded by the ANWB professional jury. Due to the material-saving square mesh, our lightweight range is up to 50% lighter than regular nets.
Only after all this, we recommend using an insect repellent with DEET on exposed skin. Our Care Plus Anti-Insect DEET 50%, part of our range since 1994, provides up to 10 hours of protection against (malaria) mosquitoes. As an alternative, we offer Anti-Insect Natural without DEET made with natural lemon eucalyptus extracts. Natural, with 30% Citriodiol®, provides up to 6 hours of protection.
Luring mosquitoes
Tropicare supports pioneering scientific research of the Wageningen University Laboratory, in search of a solution to keep the (malaria) mosquito away from people. A study group led by Professor Takken has developed substances that attract mosquitoes. These attractants are used to lure mosquito populations away from African villages and catch them, so that the risk of a malaria mosquito's bite is reduced to such an extent that malaria disappears.
We donated 28 mosquito traps, the MMX Counterflow Mosquito traps, in 2012. The traps are important to gain information on malaria mosquitoes in and around the house. Based on this information, new control techniques can be used. A field study is being carried out on the Kenyan Rusinga Island. Last year, Arnoud Aalbersgerg, founder and CEO of Tropicare, visited the project. The results of the field study are promising. The mosquito traps bring down the mosquito populations in the huts, and the traps' battery and solar panel provide an additional advantage. They provide electricity for lighting and charging facilities for mobile phones (because everyone has one!).
In order to be able to offer travellers a solution, we are interested in gaining experience with a portable mosquito trap. Another wonderful innovative effort for Care Plus and a step closer to a malaria-free world by 2030!